Client
Datuk Chef Wan
Location
Cyberjaya
About
Datuk Chef Wan (@_chefwan58) is a professional chef, television host, food critic, author, actor, entrepreneur, cultural ambassador & motivational speaker.
Work
Landscape Design & Build, Hardscape & Softscape (Shade Fountain), Herbal Garden & Landscape Accessories.
A chef's garden, that grows culinary herbs
---
A well-designed landscape can be inspiring. It can boost your spirits and give you solace. A beautiful of indoor and/or outdoor landscape can also improve the curb appeal of your home and inspire other people because it can provide a sense of calm, a sense of awe, and a sense of balance.
Here comes the sun.
Pergolas and other shade structures are the perfect way of enjoying the outdoors even when the conditions outside are less than appealing. In the heat of our weather, you can relax and entertain outdoors without being overwhelmed by the beating sun.
The walkway, with a semi circular shaped being laid along the garden, was specially designed for Chef Wan. The hardscape walkway (paving slabs) provides separation and definition of public and private areas, while also connecting and unifying them. Focal points guide are added to orient your eye as you move through the landscape.
The key to successful herb growth is simple: light. We're lucky enough to be able to pick a spot on the garden that is perfect. From the living room, the residence is now furnished with an overlooking view of the herbal garden. We have light, and we have a view.
With the input of Chef Wan himself, we picked a couple of plants for his personal Herbal Garden. If you're planning to add more variety to your herbal garden, you can refer to the following section: Plants we picked for the garden.
Labour, tools, equipment & transportation.
Conceptual design & build, handling, hoisting, tagging & planting.
External Landscaping; Hardscape & softscape
External Potted Plants.
Herbal Garden
Water Features
Hardscape Walkway (Paving Slabs)
Pergola (Shades for BBQ Area)
Herbal Garden (Holy basil, sweet basil, thai basil, vietnamese mint, lemongrass, pandanus, betel leaf, san ginger, turmeric, galangal, murraya koenigii (curry leave tree) & pennywort)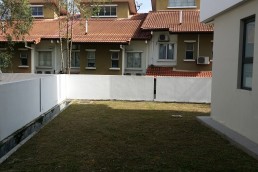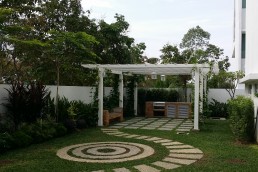 The fast-talking, silver-haired culinary ambassador for Tourism Malaysia, Chef Wan, is no stranger to any Malaysian for his high expectation in whatever he do. We know that. And we'd like to exceed his expectation.
The residence is located in a gated area, where access to contractors is limited to a set period of time. We've established a good time management control to ensure the project is delivered on time.
He wanted a 'wow' feeling to his garden, and we are flexible to accommodate reasonable changes even when the project is already ongoing. We swapped out a number of plants to better suit the garden, and we believed we have nailed the 'wow' factor.
Plants we picked for the garden.
---
Betel leaf
Galangal
Holy basil
Lemongrass
Murraya Koenigii (Curry leave tree)
Pandanus
Pennywort
Sand ginger
Sweet basil
Thai basil
Turmeric
Vietnamese Mint